Store Information
Day of the Week
Hours
Monday

9:00 AM

-

7:30 PM

Tuesday

9:00 AM

-

7:30 PM

Wednesday

9:00 AM

-

7:30 PM

Thursday

9:00 AM

-

7:30 PM

Friday

9:00 AM

-

7:30 PM

Saturday

9:00 AM

-

7:30 PM

Sunday

11:30 AM

-

6:30 PM
Open Today
Get Directions
July's Featured Products!
About Hollywood Feed
Hollywood Feed is a natural and holistic pet specialty retail store in Murphy, TX. We offer the highest quality dog and cat foods, USA-made treats, toys, beds, and more! To offer the best customer service, our Feed Team sales associates receive over 40 hours of training from veterinarians, nutritionists, vendors and behaviorists each year. Hollywood Feed is committed to helping pet owners make informed decisions about the products they buy for their four-legged family members. We invite you and your furry family members to come see why Hollywood Feed is a different breed of pet supply store.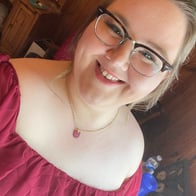 Cassidy Moore
Store Manager
Cassidy has been with Hollywood Feed for nearly five years now. She started out as a full time sales associate and then fell in love with the job and climbed her way to where she is now. Cassidy recently married the love of her life in November 2020 (yes, she was a COVID bride!) and they are now working on finding their dream home. She has one dog named Witten after the great Jason Witten (Go Cowboys!). He is a chihuahua/pug mix and he is the laziest pooch that she has ever met. Cassidy, her husband, and Witten spend their spare time cuddled up on the couch watching movies. She is grateful for all of the people and pets that she gets to know while working at Hollywood Feed! Her message to her customers? "Thank you for trusting us with all of your pets' needs!"
If your pet doesn't love it or if you don't love it, we will gladly replace or refund it.
- Shawn McGhee, Proprietor
Recent Reviews
4.9 out of 5.0
(113 Reviews)
Leave a Review
Excellent service with friendly smiles!

Great staff- friendly professional

Love the free deliveries!

Response from Hollywood Feed

July 5, 2021

Thank you Timmons! We are thrilled to hear you are enjoying our Same Day Delivery service! We'd love to learn more about how we could improve from 4-stars to 5-stars - please email us your feedback at bark@hollywoodfeed.com. Thank you so much for this great feedback! We hope to deliver to you again soon!

I LOVE Hollywood Feed, I have actually just started using their same day delivery, what a life and time saver the service is still the fantastic service I am used to and the write cute little notes on my invoice and sometimes leave treats for my babies they are the absolute best!

Response from Hollywood Feed

July 3, 2021

Judy, thank you for the awesome review! Our Same Day Delivery Service was made for the convenience of our customers in all situations. And we strive to provide speedy service for all our customers! We are always here for your pet needs! Adding nice notes and treats is our way of showing gratitude. We're thrilled you're pleased and hope to deliver to you again soon!

Always fantastic customer service, the dogs appreciate the little gift of treats and we all enjoyed the handwritten joke!
Thank you so much for saving the day by delivering their food!

Response from Hollywood Feed

June 29, 2021

We're so glad to hear you're enjoying our Same Day Delivery service!! We're thrilled to hear that you are pleased with our customer service also. Thank you for providing us with awesome feedback about this service!

Always great!!

Response from Hollywood Feed

June 28, 2021

Patricia, we are glad that you enjoyed your visit so much that you gave us a 5-star review! We truly appreciate your continued support and the great feedback! Thank you for being a part of the Hollywood Feed family, and we look forward to seeing you again soon!

Love the store. Employees friendly and helpful.

Response from Hollywood Feed

June 22, 2021

Pegge we are THRILLED to hear about your wonderful experience at our Murphy Marketplace store. We think they're pretty great, too! Thank you for the review and hope to see you again soon!

I love this store! Everyone is very helpful, and I always find exactly what I need. I like the sweet pups behind the counter and love that I can bring my own pups when I shop!

Response from Hollywood Feed

June 9, 2021

Kristen, thank you for the feedback. WOW, 5-stars! You and your pet are like family to us and we're happy you have allowed a great connection with our Murphy Marketplace team! We believe that our customers and their pets deserve the highest quality products and the best possible service. We're thrilled to have such amazing feedback! We look forward to seeing you again soon!

GREAT customer service and EXTREMELY helpful and knowledgeable! Love going to this store in Murphy!

Response from Hollywood Feed

June 7, 2021

Thank you for the wonderful review, Shannon! Our team attends monthly training on nutrition and products to ensure well-informed service for our customers! We are thrilled to hear you love our Murphy location, and we're so glad to have you and your pet as part of our Feed Family! Come back and see us again soon.

Awesome customer service! I placed my order online and was shortly contacted by them letting me know that an item I ordered was actually not in stock. They offered a substitution and delivered my order safely and with care.

Response from Hollywood Feed

May 31, 2021

Sharon, we are always excited to receive such an amazing review! Great customer service is always something that we strive for and we are happy to have such great feedback. We hope to see you again soon!

Always wonderful!

Response from Hollywood Feed

May 31, 2021

We truly appreciate your continued support and the great review, Kristi! Come back and see us again soon!

Great customer service driver!!!

Response from Hollywood Feed

May 31, 2021

Debbie, we're so glad to hear you're enjoying our Same Day Delivery service!! We're thrilled to hear that you are pleased with our customer service also. Thank you for providing us with awesome feedback about this service!

Great customer service and very friendly. They have been able to help me with a new rescue dog and answer all of my questions. Glad I found them!

Response from Hollywood Feed

May 7, 2021

Thank you so much for the fantastic review, Mark! Our team attends monthly training on products, nutrition, and customer service throughout the year to learn how to best serve our customers! We're thrilled you're pleased and hope to see you again soon!

Greeted as soon as you walk in and everyone is extremely helpful. Well organized store with EVERYTHING your pet needs.

Response from Hollywood Feed

May 3, 2021

Kathy, thank you so much for your excellent review! Our team strives to make every customer's shopping experience a pleasant one, which is why we keep our stores tidy and organized while offering the best customer service possible! We are thrilled to have such amazing feedback. Hope to see you soon!

I truly enjoy visiting Hollywood Feed. Great products, great ideas plus excellent products- how can you go wrong. The staff is very helpful and knowledge about the inventory. Also really found the online dog training programs to be Very helpful. I learn more practical, useable information in these programs then in the face to face training classes. I do wish however you had a wider line of "strong chewers" line of toys.

The cashier was very friendly and helpful.

Response from Hollywood Feed

April 28, 2021

Karolyn, thank you for the kind words! We are proud of our stores and the teams! Great customer service is always something that we strive for and we are happy to have such great feedback! We'd love to learn more about how we could improve from 4-stars to 5-stars - please email us your feedback at bark@hollywoodfeed.com. We hope to see you again soon!

Great service! The workers are super helpful and nice.

Response from Hollywood Feed

April 28, 2021

Thank you so much for the splendid review, Kristin! We're thrilled you're pleased with our service and hope to see you again soon!

Friendly staff providing great service since the Murphy location has opened.

Response from Hollywood Feed

April 27, 2021

Ricky, thank you so much for your fantastic feedback! Our team works hard to go above and beyond for every customer, and it's wonderful to see that we've met that goal! Come back and see us again soon!

Wonderful service with a smile

Response from Hollywood Feed

April 27, 2021

Carol, thank you so much for your fantastic feedback! Our team works hard to go above and beyond for every customer, and it's wonderful to see that we've met that goal! Come back and see us again soon!

Great customer service - quick and easy delivery
Displaying reviews 1 - 4 out of the 20 most recent
Leave a Review